Podcast: Play in new window | Download (Duration: 19:25 — 25.2MB) | Embed
Subscribe: Apple Podcasts | Google Podcasts | Spotify | Email | TuneIn | RSS | More
Thank you to the ASQ Houston chapter 1405 for inviting us to speak at the professional dinner June 20th 2019. It was an honor and a lot of fun for us. This was Darci AKA "The Boss Lady"s public speaking event too.
This is Part 1 of a two part episode. Next week we have a special podcast planned in honor of Independence Day and we will release Part 2 the following week. The opening speaker was unable to present, so Darci and Kyle sat down, assessed the situation and put together a topic and podcast and presented this impromptu presentation of #QualityMatters.
CUTTING WASTEFUL STEPS, IMPROVING EFFICIENCY IN CONTRACT PROCUREMENT PROCESS SAVES CHICAGO PUBLIC SCHOOLS MILLIONS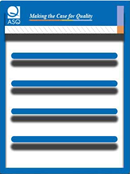 The third largest school district in the United States, the Chicago Public Schools (CPS), manages more than $2 billion in annual contract obligations for services and supplies.
Identifying a need to improve a procurement process that had long grown inefficient, CPS officials hired consultant George Chemers to support the implementation of the new vision for an efficient process.
Through a number of workshops, Chemers helped staff identify opportunities to streamline the contract procurement process while also improving budget forecasting. The lean review cut the process in half while saving the school district millions of dollars.
ASQ Houston
ASQ Houston – Professional Dinner July 20th 2019
Our source for this week's impromptu podcast
Download the Case Study Directly
Learn more about #QualityMatters & Texas Quality Assurance :
LinkedIn | Facebook | Twitter | Instagram | YouTube
www.qmcast.com | Texas Quality Assurance